Nous parlons français
We speak english
Wir sprechen Deutsch
Мы говорим по-русски
Funny Floating Thermometer
THERMOFUNNY
The Funny floating thermometer is the essential accessory to raise the water temperature of your pool...
Warning: Last items in stock!
Availability date:
Funny Floating Thermometer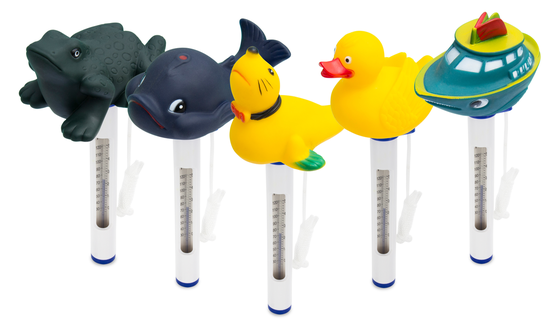 This floating and semi-submerged thermometer allows to raise the temperature of the water of your swimming pool. The graduation in Celcius degrees and Fahrenheit degrees makes it very easy to control the temperature.

The temperature is very important because it allows you to adjust the filtration time of your pool. Example: Water at 24 °C must be filtered 12h/day. For good filtration, simply divide the temperature by 2 to know the filtration time.

Specifications:
5 models: Duck, whale, frog, sea lion, boat.
ABS tube.
A cord is provided to attach it to the ladder.
Random model, according to the availability of the stock.
Reviews
All the reviews on this page are ordered by date.
Viewed products
The Funny floating thermometer is the...