Pool Materials and Accessories
Payez en 4X sans frais pour les achats
Reference: BESSPABAHAMAS Manufacturer: BESTWAY
If you are looking for a designer inflatable spa, go for this model. Aesthetically it is a success as you can see....
Plus d'informations
Voir les pièces détachées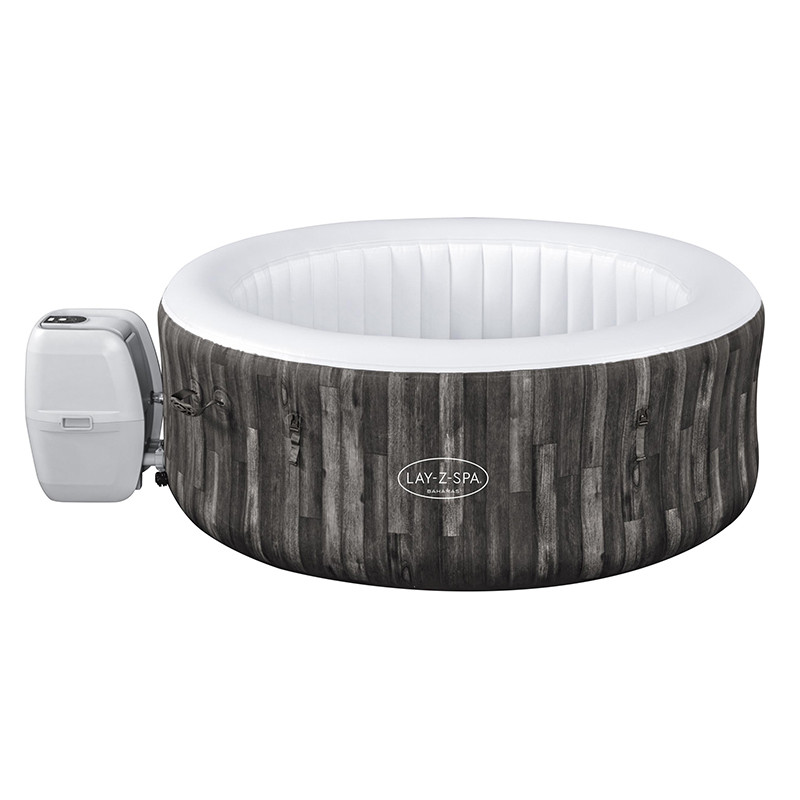  
Reference: BESSPABAHAMAS
Manufacturer: BESTWAY
If you are looking for a designer inflatable spa, go for this model. Aesthetically it is a success as you can see....
Plus d'informations
Voir les pièces détachées
FREE DELIVERY
à partir de 180€ selon
to delivery conditions
Spa Lay-z-Spa Bahamas Bestway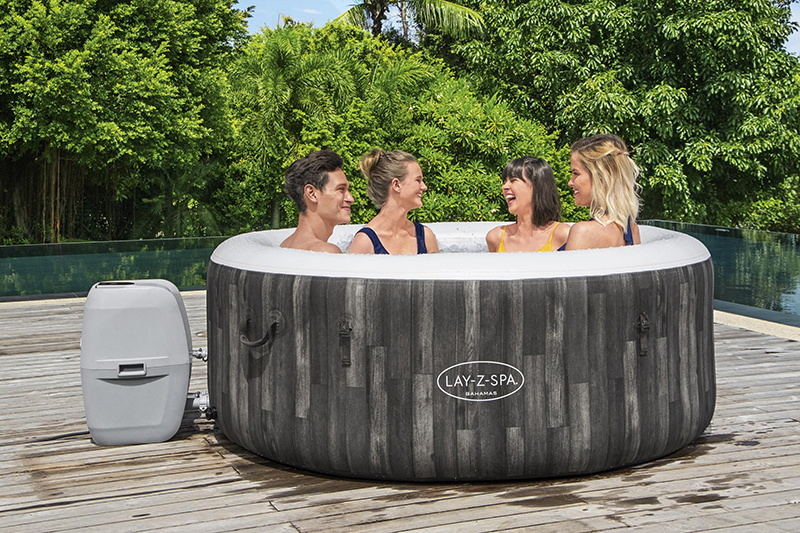 If you are looking for a designer inflatable spa, go for this model. Aesthetically it is a success as you can see. The Lay-z Bahamas inflatable spa benefits from a quality finish. It is produced by a major player in the Wellness branch. Modern, it is distinguished by its exterior pattern in imitation wood. With its effect texture, it provides a pleasant touch. As for its mosaic lower part, it gives a contrasting and seductive note. This makes it different from other competing models. Friendly to use, the spa is equipped with a comfortable seat with a foam bottom for an optimized relaxation session.
The perfect this model, the new 2021 generations has a Freeze Shied anti-freeze shield. Thanks to this system, many customers consider it to be a true 4-season spa. When the water temperature drops below 6°C, the technology immediately triggers automatic heating. It therefore reduces the risk of freezing so as not to damage the spa. It therefore allows you to enjoy it all year round. What more?
The Lay-z Bahamas inflatable spa is one of the simplest models to assemble. Its installation does not require a specific skill or tool. During its manufacture, manufacturers use DuraPlus triple layer technology. This not only offers great stability to the pelvis, but also high resistance. Its walls do not deform despite the test of time. This is why the Bahamas spa has a long lifespan.
To configure the spa, the manufacturer includes an easy-to-use digital control panel. This allows you to increase the water temperature according to your needs, up to 40°C. It also allows you to automatically program 40 days in advance the water temperature that suits you.
Integrated equipment :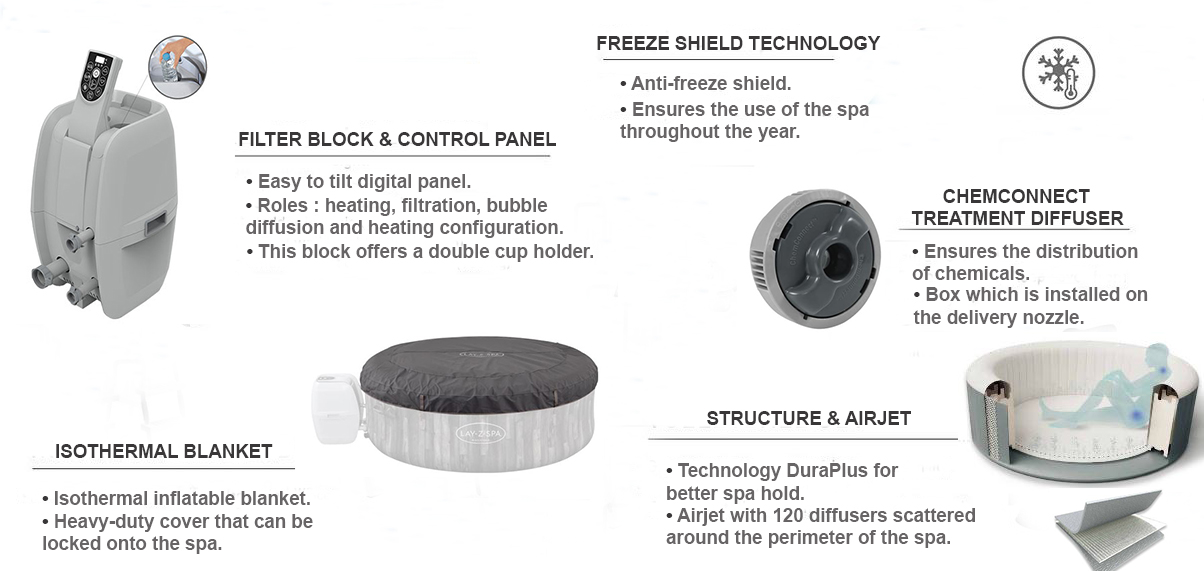 DuraPlus structure :
Bestway uses DuraPlus technology in the manufacture of these inflatable spas. This finish provides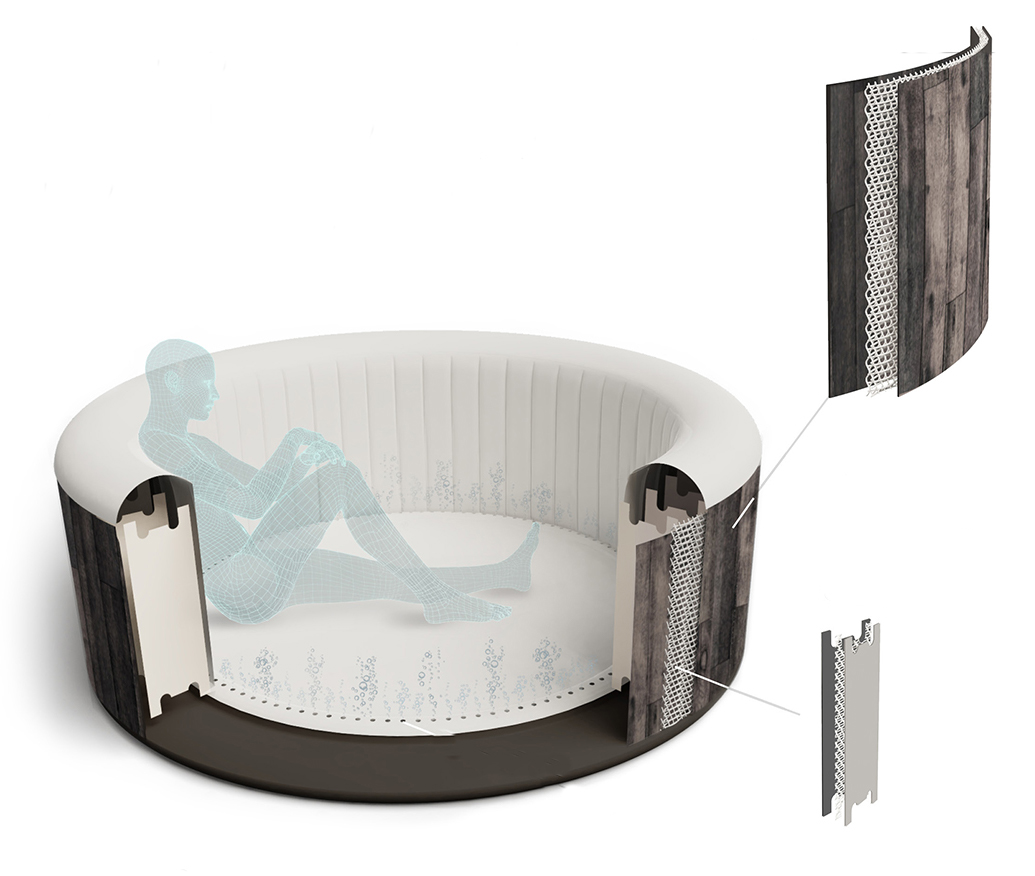 good resistance to the structure over time. It optimizes its strength during handling, whether during inflation or deflation. This material with three layers provides excellent stability and rigidity.
Regarding the bottom of the Bahamas spa, this part is made of foam to ensure optimal seating comfort.
Airjet Technology:
The Lay-z-spa Bahamas is made with Airjet technology. The operation of this innovation can be simple. These are the jets that release hot air into the water. Then they give the bather a very soothing bubble massage. 120 diffusers are available to create a whirlpool bath, which offers a very relaxing feeling. They are concealed on the inner periphery of the model's structure.
Airjet technology is a major asset of the Lay-z-spa Bahamas inflatable spa. Unlike other inventions used by competitors, it has the advantage of producing hot air bubbles. These prevent the water from cooling down during your spa sessions.
Freeze Shield system :
The new version of Spa Bahamas Bestway is equipped with a Freeze Shield system. Thanks to the latter, you can enjoy your spa all year round and whatever the season. Its operation remains easy to understand. This is a real anti-freeze shield that automatically turns on the heating once the water temperature drops. This technology prevents the water from cooling below 6°C. With this innovation developed by Bestway, the water in your spa will not be able to freeze. In addition, the structure itself cannot be damaged.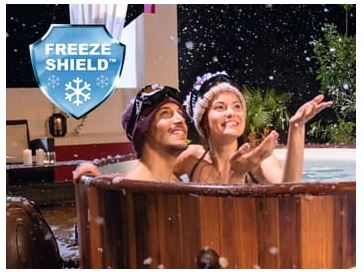 Unlike spas offered by competing brands, this model can be operated in any season, thanks to the Freeze Shield system. The other products in the same category can only be used for 6 months.
Thanks to this technology, the whole family can bask in the jacuzzi at all times, induding during mountain vacations. You can indulge yourself during the spa session in the middle of winter. After use, there is no need to dismantle the basin, as it can be put into operation at any time.
New generation filter block :
The Lay-z-spa Bahamas is supplied with a new version filter block! Both complete and compact, it allows you to enjoy the spa in a very simple way. Once you are properly installed, you can use the digital control panel. This gives you the opportunity to benefit from its many features. It allows you to schedule heating up to 40 days in advance. Likewise, it lets you adjust the diffusion of bubbles and the filtration time. That's not all, it allows you to activate the anti-freeze option for year-round use.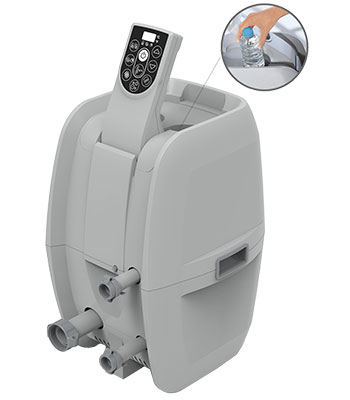 As the digital control panel is tiltable, it provides a good grip even if you are in your spa. As soon as this part is raised, the filter block gives way to a cup holder. The latter is very practical to put your favorite drink within reach during the session. It is the ideal accessory helping you to hydrate you during the summer days!
Dimensions and main characteristics :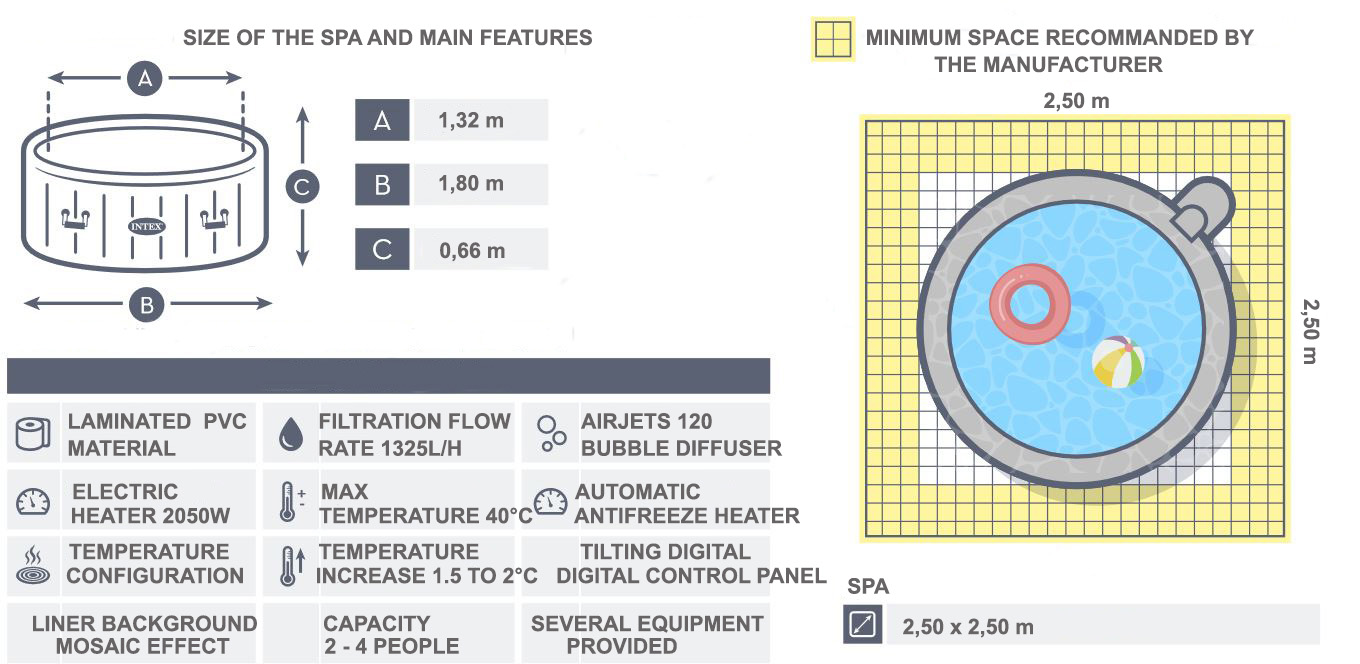 Characteristics :
Modèle : Lay-Z-Spa Bahamas.
Color : aged wood pattern.

Form : round.
People : 2-4 places.
Capacity : 669 Liters.
Filled weight: 696 Liters.
Max Temperature : 40°C.
Structure : DuraPlus.
Control Panel : digital and leans on the top of the technical block.
Freeze Shield automatic heating prevents water from freezing. It allows you to enjoy spa sessions in any season, even in winter

Automatic timer : automatic heating programming up to 40 days anticipation.
AirJet system : 120 massage jets.
Complete control panel : integrated.
ChemConnect diffuser : supplied, allows disinfection substances to be distributed throughout the spa.
Warranty:

2

YEARS
As a Certified partner in France, Belgium, the Netherlands and Germany.

Avis des internautes
0/5
0 avis
No customer reviews for the moment.
error Your review appreciation cannot be sent
Are you sure that you want to report this comment?
Your report has been submitted and will be considered by a moderator.
error Your report cannot be sent
Your comment has been submitted and will be available once approved by a moderator.
error Your review cannot be sent