Nous parlons français
We speak english
Wir sprechen Deutsch
Мы говорим по-русски
Piscimar Phos-Out
PISPHOSOUT

Piscimar manufactures top quality products and meets the highest European standards. Piscimar offers a range of unique products with very high concentration. Phos-Out helps to kill algae by starvation.
Warning: Last items in stock!
Availability date:
Piscimar Phos-Out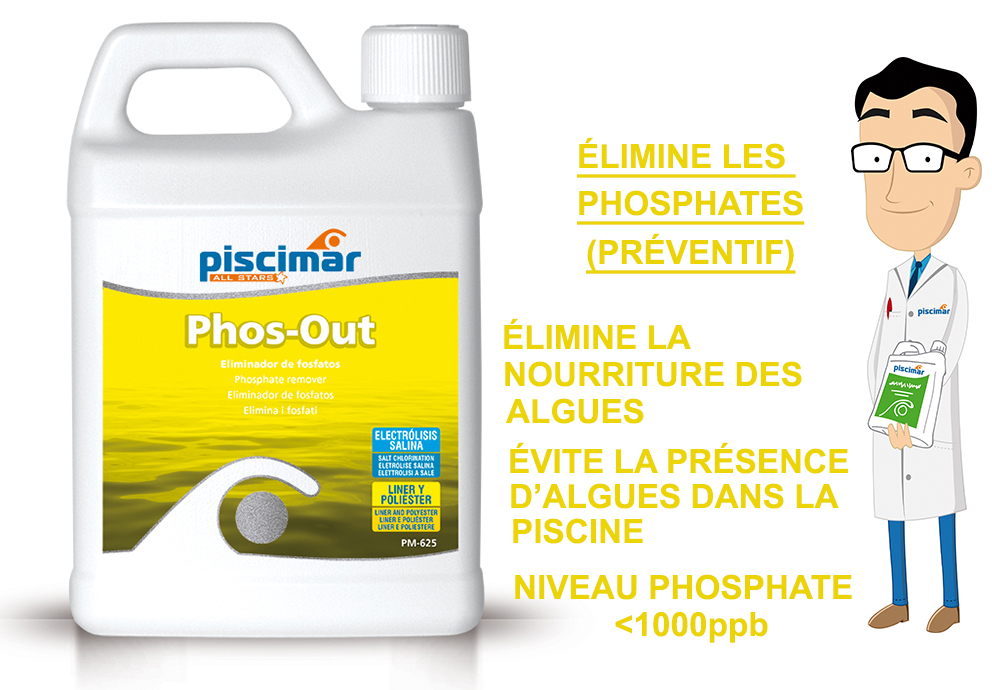 Phos-Out eliminates phosphates from the water, phosphates allow the algae to feed and therefore develop.

The advantages of the Phos-Out:
Eliminates phosphates. Prevents the growth of algae.
Facilitates the maintenance of the pool. Strengthens the effectiveness of an active oxygen treatment.
Perfectly suited for salt electrolysis treatment.
An expert's advice:
Phosphates are the food of seaweed created by photo-synthesis.
Analyze at the beginning of the season the concentration of phosphates in your swimming pool.
Check the water balance parameters: Alkalinity and Ph.
Maintain sufficient filtration time.
Remove phosphates by shock chlorination before pouring the Phos-Out into the pool if the algae are already present in the pool.
Add Goldenflok to remove turbidities and allow filtration to continue for 24 hours immediately after treatment.
Add 0.3 L/100m3 of Phos-Out per week to maintain the level of phosphates less than 125 ppb.
Usage:
Calculate the dose of Phos-Out depending on the level of phosphates and the volume of your pool.

For a concentration of phosphates up to: - 200 ppb for 0.3 L/100m3 - 500 ppb for 0.6 L/100m3 - 1000ppb for 1.2L/100m3

.
Use Goldenflok and filter 24 hours non-stop after pouring Phos-Out into the pool.
Carry out a filter wash if you notice an increase of 400grs of the gauge pressure.
Use Phos-Out as a weekly treatment to maintain the level of phosphates below 125 ppb.
Packaging:
Reviews
All the reviews on this page are ordered by date.
Viewed products
Piscimar manufactures top quality...