Nous parlons français
We speak english
Wir sprechen Deutsch
Мы говорим по-русски
Piscimar Ultra Clear
PISULTRACLEAR

Piscimar is a brand of highly concentrated products dedicated to the treatment of private or public pools. Ultraclear is a super clarifier that can recover turbid water very quickly or eliminate organic stains.
Warning: Last items in stock!
Availability date:
Piscimar Ultra Clear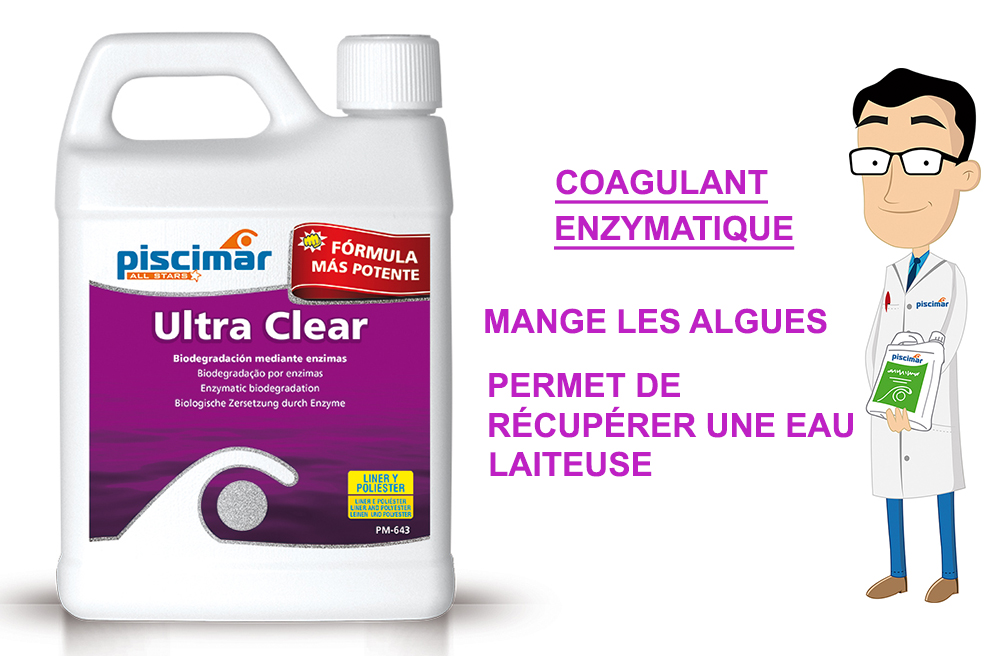 The Ultra Clear product eliminates dead algae without saturating the filter. Ultra Clear prevents the formation of algae deposits on the water line and biodegrates grease and organic matter that accumulates in the filter.

The Advantages of Ultra Clear:
Recovers troubled waters rapidly.
Eliminates of organic tasks.
Quickly removes dead algae after shock chlorination.
Preserve the waterline of dirt.
Degreases fat and organic particles in the filter.
Compatible with all disinfection treatments.
Compatible with all filtration systems.
Ideal for spa or heated pools.
An expert's advice:
Water may become cloudy after shock treatment, resolves alkalinity or pH imbalance, as well as insufficient filtration time or heavy use of the pool.
Adjusts the pH to 7.0 and 7.4. Adjusts the alkalinity between 80 and 120ppm.
Maintains sufficient filtration time.
Usage:
Test the equilibrium water parameters: Alkalinity, pH.
Keep the filtration running.
In the case of a green swimming pool and after shock treatment, pour 1 liter of Ultra Clear product per 100 m3 of water into the pool.


In the case of regular treatment, pour 0.75 L/100 m3 every 15 days.
Capacity:

1,1l



Reviews
All the reviews on this page are ordered by date.
Viewed products
Piscimar is a brand of highly...