Pool Materials and Accessories
Payez en 4X sans frais pour les achats
Reference: CWOOD135REC Manufacturer: C-WOOD
The C-WOOD pool is manufactured in France and it complies with current regulations. It will be delivered with all the necessary equipment for its good operation (sand filter, skimmer, pump, ladder etc...), it will fit perfectly to any type of the yard...
Plus d'informations
Voir les pièces détachées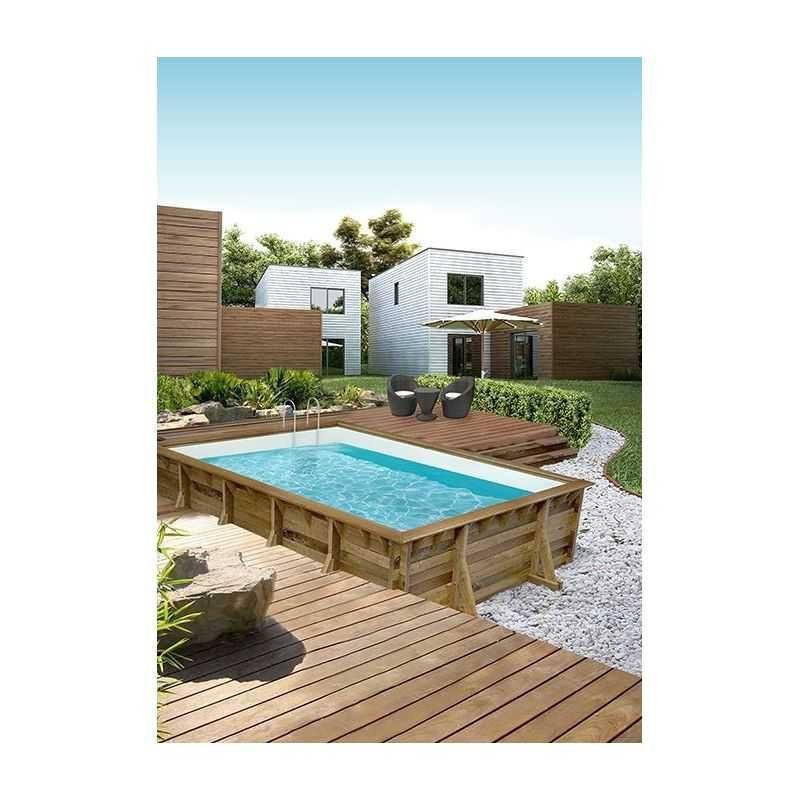  
Reference: CWOOD135REC
Manufacturer: C-WOOD
The C-WOOD pool is manufactured in France and it complies with current regulations. It will be delivered with all the necessary equipment for its good operation (sand filter, skimmer, pump, ladder etc...), it will fit perfectly to any type of the yard...
Plus d'informations
Voir les pièces détachées
FREE DELIVERY
à partir de 180€ selon
to delivery conditions
C-WOOD Rectangular Swimming Pool

The Choice of Excellence

C-Wood pools are the best investment pleasure and durability.
Provenance and traceability of C-WOOD pools:
All our swimming pools are made in France with wood originating materials from Landes forests and certified PEFC label. We select high quality trees for the manufacture of our swimming pools, according to very precise specifications, we only recover the lower part of the trunk. This quality of timber is used for fine joinery. The sawmills are located within 20km away from our workshops, this guarantees wood materials of local origin. The dry wood materials arrive in our workshops to be machined and then sent to impregnation treatment (duramen of the wood).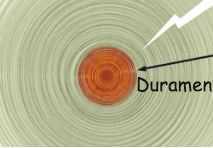 Our autoclave station (certified station CTB-B +) is located 20km away from our workshops, which allows us to check the progress of the treatment process. All our woods are Class IV CTB-B + autoclave treated (without the use of arsenic or chromium) for effective protection against insects and molds. The CTB-B + treatment is :
The assurance of effective protection.
Compliance with health and environmental regulations.
Professional approach for high quality of technical details.
Regular inspection by a certifying commission.
The Class IV treatment allows the use of wood in a damp environment (FYI, Class IV wood-treated in other countries often corresponds to Class III in France). The quality of our treatment makes it possible to obtain the NF label. The class IV autoclave process allows us to provide 10-years warranty on our structures.
The quality of C-WOOD:
You need C-WOOD swimming pool if you opt for a high-end swimming pool, it has natural materials treated in an ecological way and guaranteeing a traceability. C-WOOD swimming pool makes it possible to combine a natural, aesthetic and durable structure...
C-WOOD swimming pool offers a lot of benefits :
Class IV wood-treated and NF certified.
Wide range of sizes and colors.
The possibility of integrating an internal staircase.
The possibility to adapt a swimming pool to the constraints of your environment.
Solidity in all tests, the wood structure is laid "crossed" like a wall in cinder blocks to avoid any risk of deformation. (Tonneau shape.)
Logs with 50mm thickness and the maximum length of 2.30m to avoid any risk of shearing.
Reinforcements by struts of wood with a distance of 1.15m between them, in order to avoid the deformation of the structure.
Sealing parts of identical quality in distinction to those used for traditional swimming pools.
PVC piping and fittings identical to traditional underground pools.
The pump and filter are identical to traditional pools.
It allows to implement a concrete slab in order to avoid any weak points and the risk of deformation.
It is no longer necessary to wait for the reception of the pool to be able to make the slab.
Possibility of quick installation on a sand bed.
Sealing parts are made in France, with the possibility of matching them to the color of the liner.
Cache wooden sealing parts (option).
All our filtrations are oversized.
Being the owner of C-WOOD swimming pool is the assurance of having an eco-friendly investment with the durable materials, respectful of the environment and to be able to enjoy the swimming pool during very long period.
Installation of C-WOOD swimming pools:
1- The surface requirements :
Choose the ideal location, as sunny as possible, taking into consideration local regulations (distance from fences, public servitude, networks, etc.).
Avoid placing your pool under electric wires under the branches of a tree or unstable terrain.
Swimming pool should be in the sunniest and easy accessible location.
The structure must be mounted on stable ground. Never on embankment.


2-Location :
Determine the location of your pool by marking the ground.
3 possibilities of installations are available:



Above-ground.
Half-ground.
In-ground.

Very solid structure thanks to "L" struts (optional).
Wooden legs, no metal shoe will attach to your concrete slab.
If your pool is partially or completely buried, you need to dismantle an additional 60cm area on the side of the struts and an additional 20cm for the other sides. This procedure applies only in the case of L-shaped struts.
The pool must be installed in such a way that the skimmers are positioned in front of the prevailing winds.
Ensure that the water flows regardless of its origin (rain, watering, water table ...).
Attention : Never use a Delta MS table-cloth: CSTB Technical Advice 7 / 13-1559 does not provide wood transformation.
3-Installation :

Nesting of planks on top of each other. Planks should be crossed at each row for more solid structure.
Groove / tongue for easy mounting.
Wood cladding to perfect the esthetism of the pool.
Reinforced underlay.
The differences: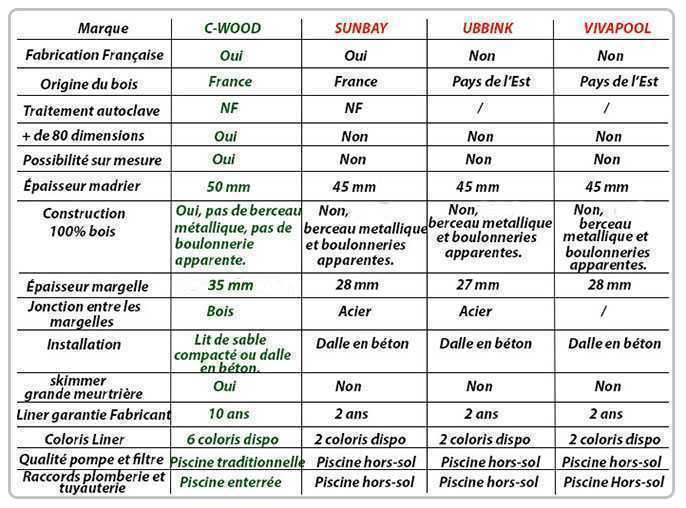 C-WOOD technical specifications: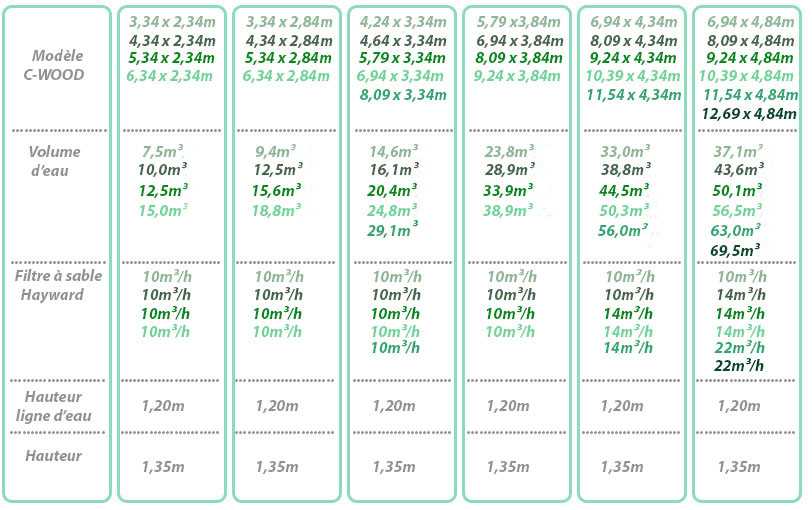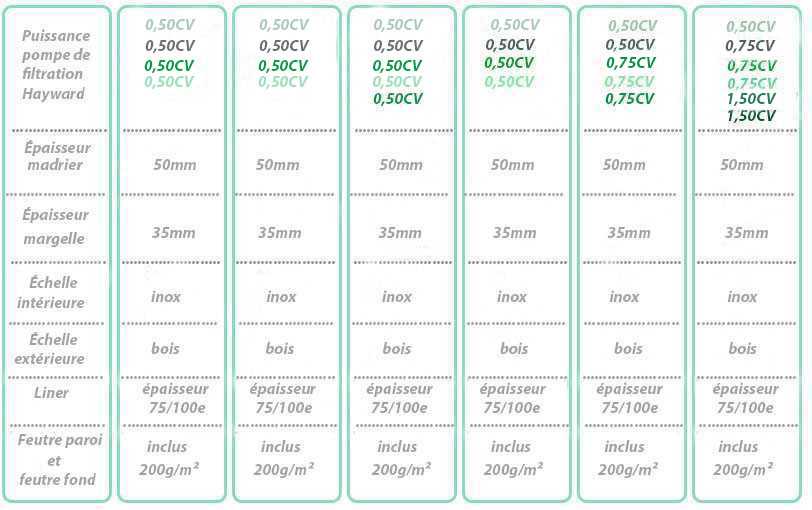 Warranties and Standards: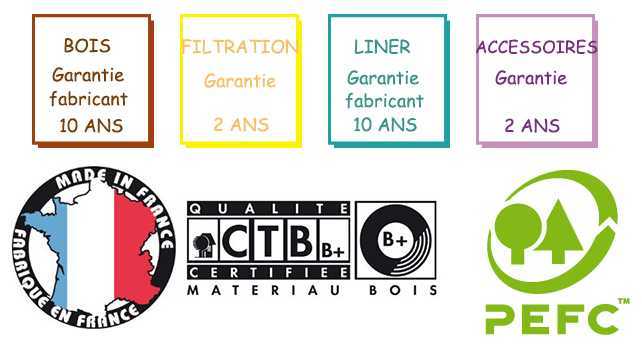 Avis des internautes
0/5
0 avis
No customer reviews for the moment.
error Your review appreciation cannot be sent
Are you sure that you want to report this comment?
Your report has been submitted and will be considered by a moderator.
error Your report cannot be sent
Your comment has been submitted and will be available once approved by a moderator.
error Your review cannot be sent