Nous parlons français
We speak english
Wir sprechen Deutsch
Мы говорим по-русски
Piscimar Copper Out
PISCOPPEROUT

Piscimar is a European manufacturer of highly concentrated products to solve problems related to your pool's water quickly and efficiently. The Copper Out eliminates excess of copper.
Warning: Last items in stock!
Availability date:
Piscimar Copper Out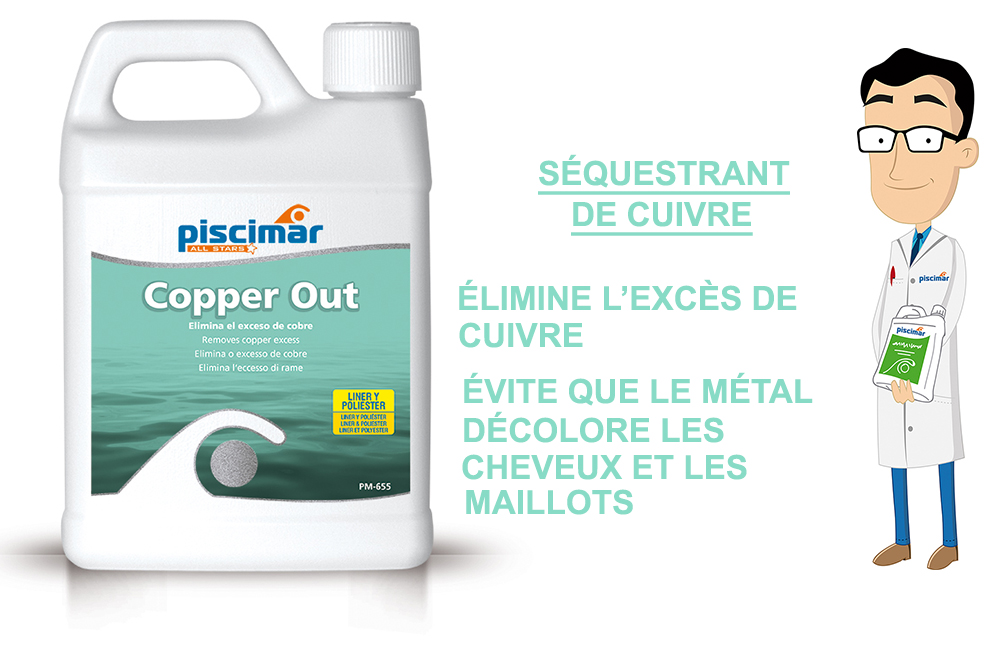 The Copper Out is a sequestrant that has been specifically designed to address the problems of copper in your swimming pool.
The advantages of the Copper Out:
Eliminate excess copper.
Prevents the metal from causing purple stains at the waterline and sides of the pool.
Avoid discolouration of swimsuits (yellow color).
Avoid green hair or purple if copper sulphate is present in the pool.
An expert's advice:
Copper is a corrosive metal for filtration equipment and relatively dangerous for the health of swimmers, we advise you to test the water with an analysis kit for the possible presence of copper in your pool.
Use the Copper Out weekly if the water in your pool contains copper.
Avoid using treatment products containing copper.
Usage:
Pour 1L/100m3 of Copper Out in the pool during the first treatment.


Add once a week 0,5L/100m3 of Copper Out in the pool for a regular treatment.

Use gloves before handling any product.
Capacity:

1,2l



Reviews
All the reviews on this page are ordered by date.
Viewed products
Piscimar is a European manufacturer...