Nous parlons français
We speak english
Wir sprechen Deutsch
Мы говорим по-русски
Piscimar Actibon
PISACTIBON

Piscimar is European brand specialized in the manufacturing of technical products related to the water treatment of private and public pools. The Actibon recovers green water in 5 hours, it allows not to empty the pool if the water is over-stabilized...

Warning: Last items in stock!
Availability date:
Piscimar Actibon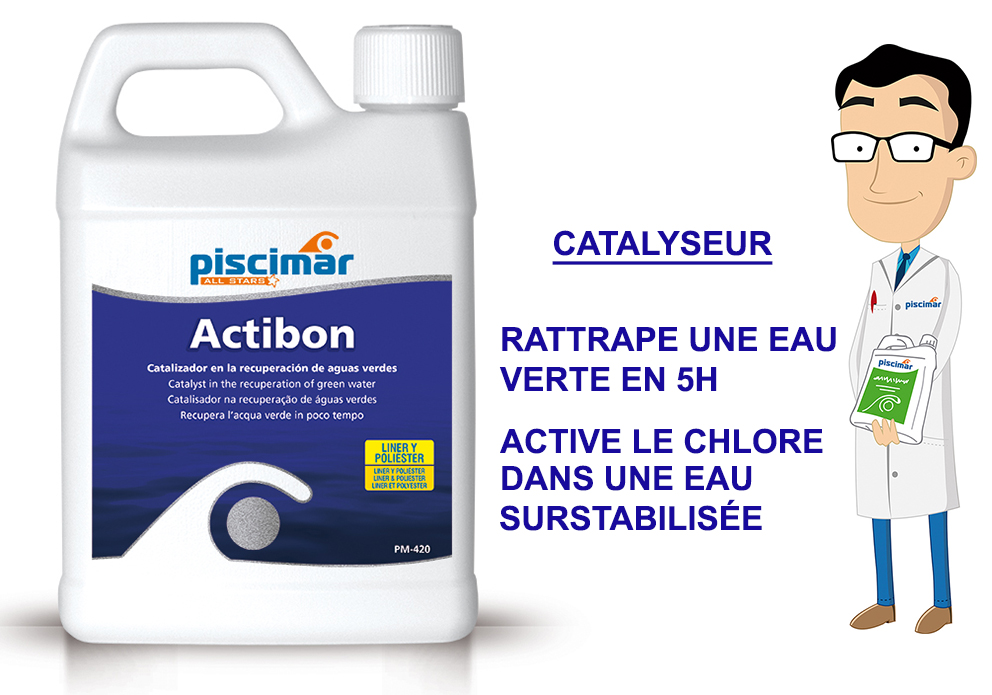 The chlorine roller is stabilized to resist UV to ensure long-term disinfection.

When the stabilizer is too high (75ml/L) the activity of chlorine is degraded and water problems appear (algae, green water, milky water, smell of chlorine etc.)
In order not to empty the pool to reduce the rate of stabilizer C-PISCINE offers you the miracle product "ACTIBON" which will allow you to fight against the harmful effects of the stabilizer.

The chemical formulation of the actibon breaks the bond created by the stabilizer so that active chlorine is released and disinfection is possible again.
Actibon allows:
At the beginning of the season

: Reactivates active chlorine in the pool.

Mid-end of the season

: Fights a rate of stabilizer too high and avoids emptying the pool.
The advantages of the Actibon:
Recovery of green water in 5 hours.
Can be combined with any disinfection treatment except PHMB treatment.
Activates chlorine and potentiates the effects of the disinfectant.
Eliminates pink algae.
Do not empty the pool at the end of the season because of a stabilizer problem.
An expert's advice:
Actibon is a catalyst for the oxidation reaction of organic matter, so that it accelerates and potentiates the action of chlorine, bromine or oxygen, it prevents the growth of yellow algae , green, and pink.
Maintain water pH between 7.2 and 7.6 for optimal efficiency.
Pour the Actibon product directly into the filtration system of your swimming pool.
Usage:
For initial treatment, pour 0.5L/100m3 of Actibon into your pool's water.

In the case of a permanent maintenance treatment, pour 0.2L/m3 of Actibon once a week.


For shock treatment in the case of already green water, add 0.5L/m3 of Actibon.

Use gloves for handling any product.
Capacity:

0,7l
Reviews
All the reviews on this page are ordered by date.
Viewed products
Piscimar is European brand...