Pool Materials and Accessories
Payez en 4X sans frais pour les achats
Reference: HTHUNIFLOC Manufacturer: HTH

The universal flocculant that prevents cloudy water and improves the
filter rating

Plus d'informations
Voir les pièces détachées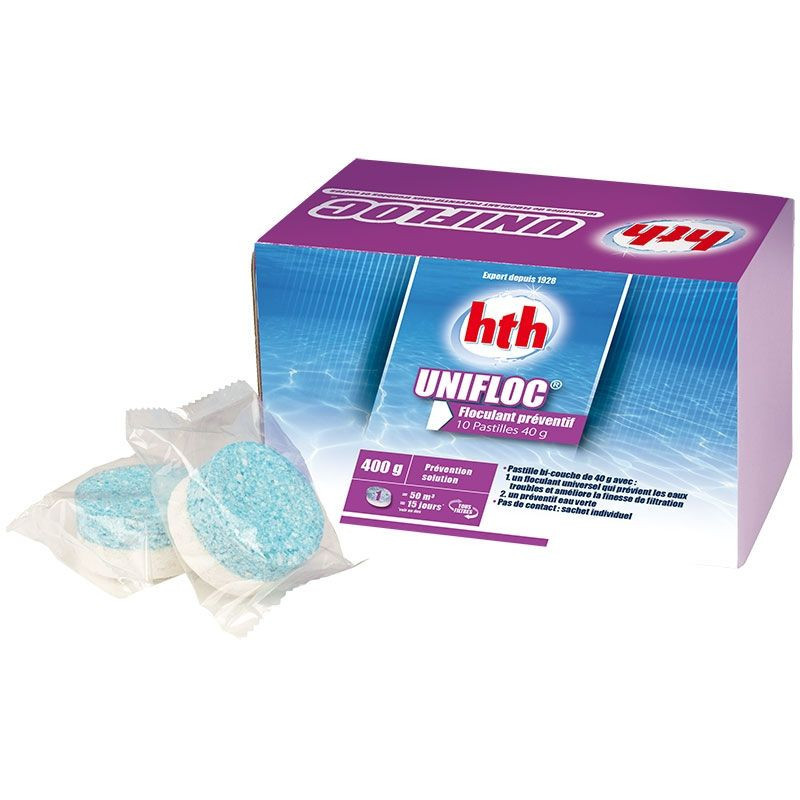  
Reference: HTHUNIFLOC
Manufacturer: HTH

The universal flocculant that prevents cloudy water and improves the
filter rating

Plus d'informations
Voir les pièces détachées
FREE DELIVERY
à partir de 180€ selon
to delivery conditions
HTH Unifloc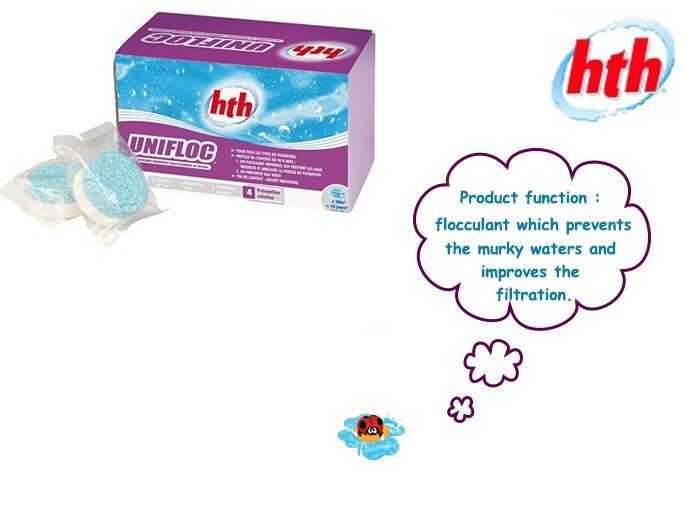 The flocculant is compatible with all types of filtration, even if the pool water is disinfected, even if it is balanced, it is not only affected by the frequentation of swimmers: wind, air pollution, insects, surrounding vegetation and ambient temperature are also disturbing factors for the clarity of the water which can make it cloudy and green. HTH Unifloc is a flocculant that combats the turbid waters and impurities of the pool for all types of filtration. Regular use of HTH Unifloc greatly improves the quality of your pool's water filtration and therefore helps to maintain water quality.
Specifications:
Copper-free formula (preservation of liners).
40-gram double-layer tablet with controlled dissolution between ½ day and 2 days according to operating conditions.
It is very pronounced clarifying effect.
Compatible with any filtration equipment including "diatom filters or filter bags.
Non-foaming at the recommended dosages in swimming pool.
Easy-to-use.
Packaging in individual bags ensuring long shelf life. Thanks to the packaging in individual bags, there is no direct contact with the product.
Compatible, dissolved with disinfectants and aids used for swimming pools.
Suitable for all waters, even very hard.
Prolonged storage to protect from moisture at a temperature below 40 °C.
HTH Unifloc pellets can be used for filtration of swimming pools on diatomaceous earth (diatomaceous earth) or filter pocket.
Usage: HTH Unifloc
It is used on the basis of one pellet per 50 m3 of water in the pre-filter of the pump or in the skimmer on the following bases:
Maintenance treatment: every 15 days.
Case of abnormally high turbidity.
Combination with shock-chlorination.
Immediately after backwash.
Packaging: Box of 400 grams.
Avis des internautes
0/5
0 avis
No customer reviews for the moment.
error Your review appreciation cannot be sent
Are you sure that you want to report this comment?
Your report has been submitted and will be considered by a moderator.
error Your report cannot be sent
Your comment has been submitted and will be available once approved by a moderator.
error Your review cannot be sent