Nous parlons français
We speak english
Wir sprechen Deutsch
Мы говорим по-русски
Piscimar Ion Magnetic
PISIONMAGNETIC

Piscimar is a Spanish manufacturer specializing in highly concentrated treatment products that can solve very specific water problems very quickly. The Ion Mangnetic is a sequestering product that eliminates oxidation.
Warning: Last items in stock!
Availability date:
Piscimar Ion Magnetic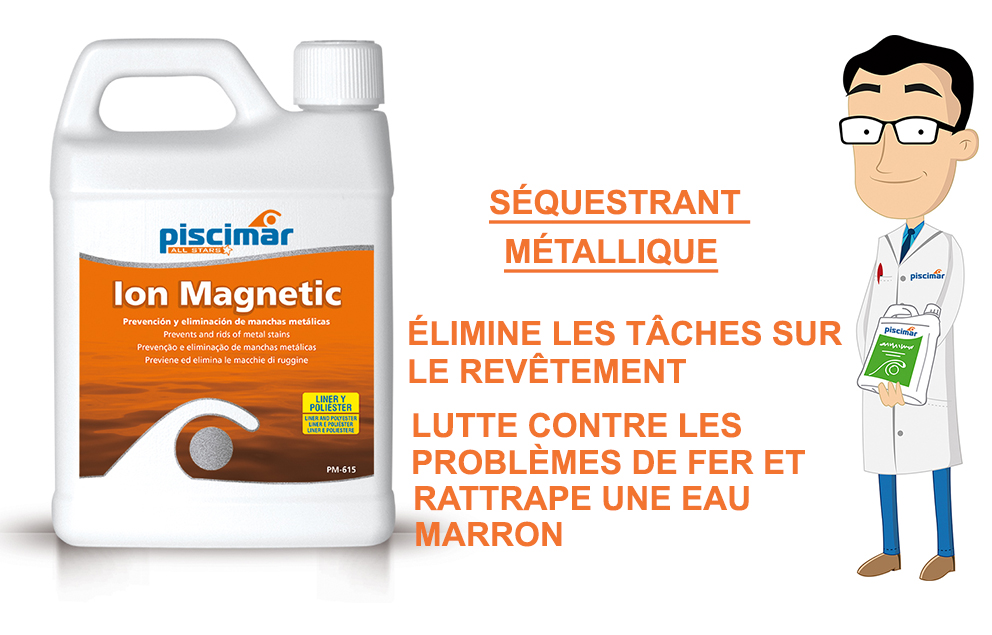 Ion Magnetic is a sequestrant of iron, manganese and other metals that eliminates stains and prevents water staining caused by metal ions.
The advantages of the Ion Magnetic:
Sequesters iron, manganese and other metals.
Avoid coloring of water (black, brown, green, orange etc.)
Gradually reduces the precipitates of the metals.
Stable with chlorine for a long-lasting effect.
An expert's advice:
The Ion Magnetic has been specially developed to prevent and eliminate encrustations and stains due to metal ions.
At startup and after analysis of the water, pour if necessary the Ion Magnetic maintaining a chlorine level of 1.5ppm.
In order to protect the pump, the filter, the heating system and prevent limescale deposits on the walls, add once a week the Ion Magnetic to your pond.
To remove a stain or incrustation, brush the weathered surface before applying the Ion Magnetic product.
Do not perform shock chlorination for 3 days to improve the effectiveness of the treatment.
For maximum efficiency the Ion Magnetic is used in combination with the Spot Remover.
Usage:
Pour 1.5 liters per 100 m3 of water and maintain a free chlorine level of 1.5ppm.

Add once a week 0.5L/100m3 of water for weekly maintenance.


Pour 3L/100m3 of water into the pool and do not shock chlorine before 3 days to remove stains or encrustations.

Use gloves before handling the product.
Capacity:

1,2L



Reviews
All the reviews on this page are ordered by date.
Viewed products
Piscimar is a Spanish manufacturer...