Nous parlons français
We speak english
Wir sprechen Deutsch
Мы говорим по-русски
Piscimar Algiklean
PISALGIKLEAN

Piscimar manufactures products of very high quality which make it possible to obtain extraordinary results in the case of specific water problems. Algiklean is a powerful anti-algae with double action, algaecide and clarifying.
Warning: Last items in stock!
Availability date:
Piscimar Algiklean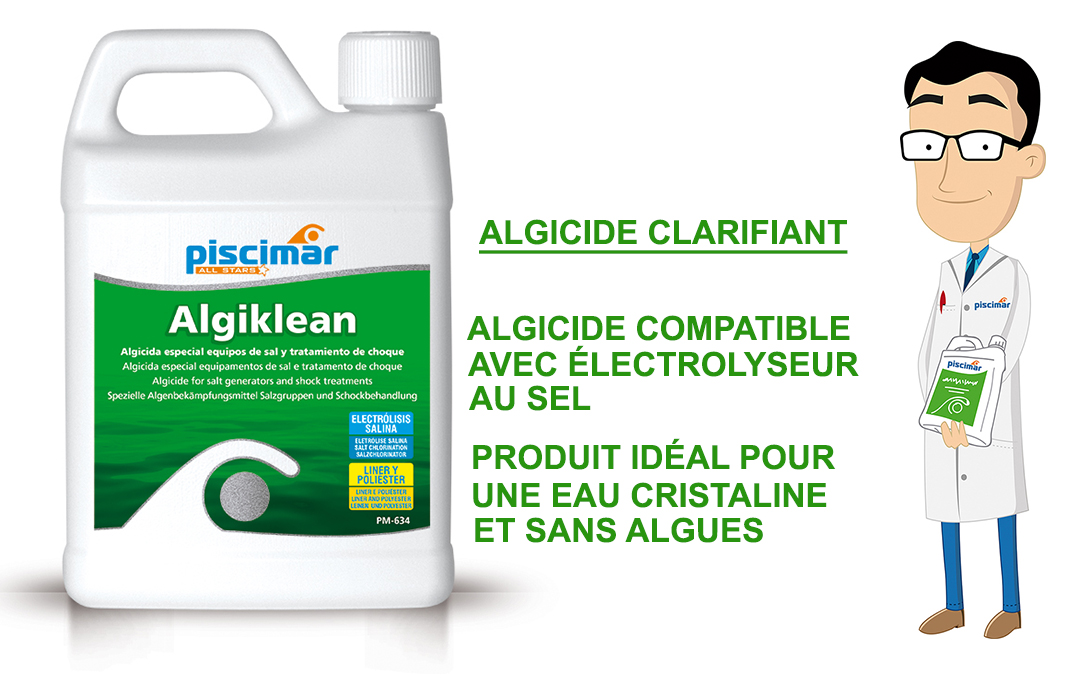 Algiklean can be used as a basic algaecide but it is especially suitable for salt and active oxygen electrolysis treatments.
The advantages of the Algiklean:
Algicidal and clarifying product.
Special salt electrolysis and active oxygen.
Improves the performance of a salt electrolyser.
Non-foaming product.
Does not contain metal ions.
An expert's advice:
The broad spectrum of activity of Algiklean eliminates the following bacteria:
Pseudomonas aeruginosa, Escherichia coli, Staphilococcus aureus.
Eliminates fungi, Fusarium solani.
Eliminates algae, Chlorella saccharophilia, Chlorella emersonii, Chlorella vulgaris, Chlorella pyrenoidosa.
Please analyze the level of phosphates present in the water using the Insta-Test
Phospates tester before using Algiklean.
Please do an initial treatment with Phos-Out before using Algiklean if the phosphate concentration is greater than 200ppb.
Apply the product Algiklean diluted to 10% directly on the walls, leave for ½ hour then rinse with clean water to sanitize your pool.
Usage:
Add the Algiklean directly into the water of your pool while filtration in operation.
Initial treatment, 2L/100m3 of water.


Dosage permanent maintenance, 1L/100m3 of water 1 time per month.

Use gloves before handling any products.
Capacity:

1,1l
Reviews
All the reviews on this page are ordered by date.
Viewed products
Piscimar manufactures products of...