Nous parlons français
We speak english
Wir sprechen Deutsch
Мы говорим по-русски
Speedcleaner APPcontrol Connected Robot
SPEEDCLEANER
Warning: Last items in stock!
Availability date:
Speedcleaner APPcontrol Connected Robot

Speedcleaner is a pool robot that automatically cleans the bottom, walls and water line of your pool. Its advanced program will allow you to clean your pool with the digital control panel on the transformer or via an application downloaded to your mobile phone, computer or digital tablet.

The Speedcleaner robot is suitable for pools up to 12m long, regardless of shape or coating. You will be able to get rid of the debris present in your pool in record time. It is compact and equipped with a carrying handle it will be easy to handle.
2 modes of cleaning:
Instruction: Speedcleaner is equipped with a low energy transformer that must be positioned 3.5m from the edge of the pool for safe operation. There is a digital control panel with several cleaning cycles and activities on the transformer:
MODES OF

OPERATION

AT CHOICE:

1- Mode ALL

cleans the walls and the water line.

2- Mode WALL

clean only the walls.

3- Mode FLOOR

cleans only the bottom.

4- Mode ALL+ FLOOR

cleans the bottom and walls.

DURATION

OF CLEANING

AT CHOICE:

1- Cycle 1H00.
2- Cycle 2H00.
2- Cycle 3H00.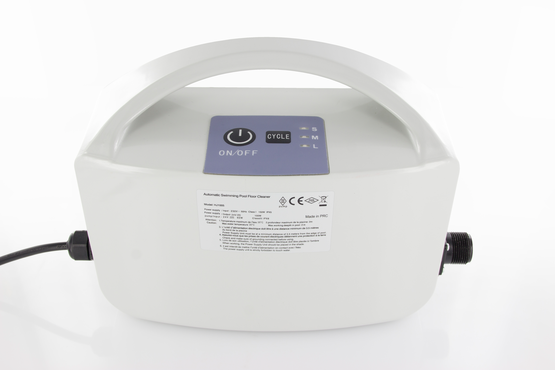 Connection: The Speedcleaner robot can be controlled via the Speedcleaner application available at Google Play (Android) or App Store (Iphone).

This application helps you connect your device with Bluetooth and rotate your robot right or left and move it forward or backward. The application offers 4 cleaning cycles:
MODES OF

OPERATION

AT CHOICE:

Mode 1

cleans the bottom.

Mode 2

cleans the walls.

Mode 3

cleans the bottom once and the walls one time.

Mode 4

cleans the bottom three times and the walls once.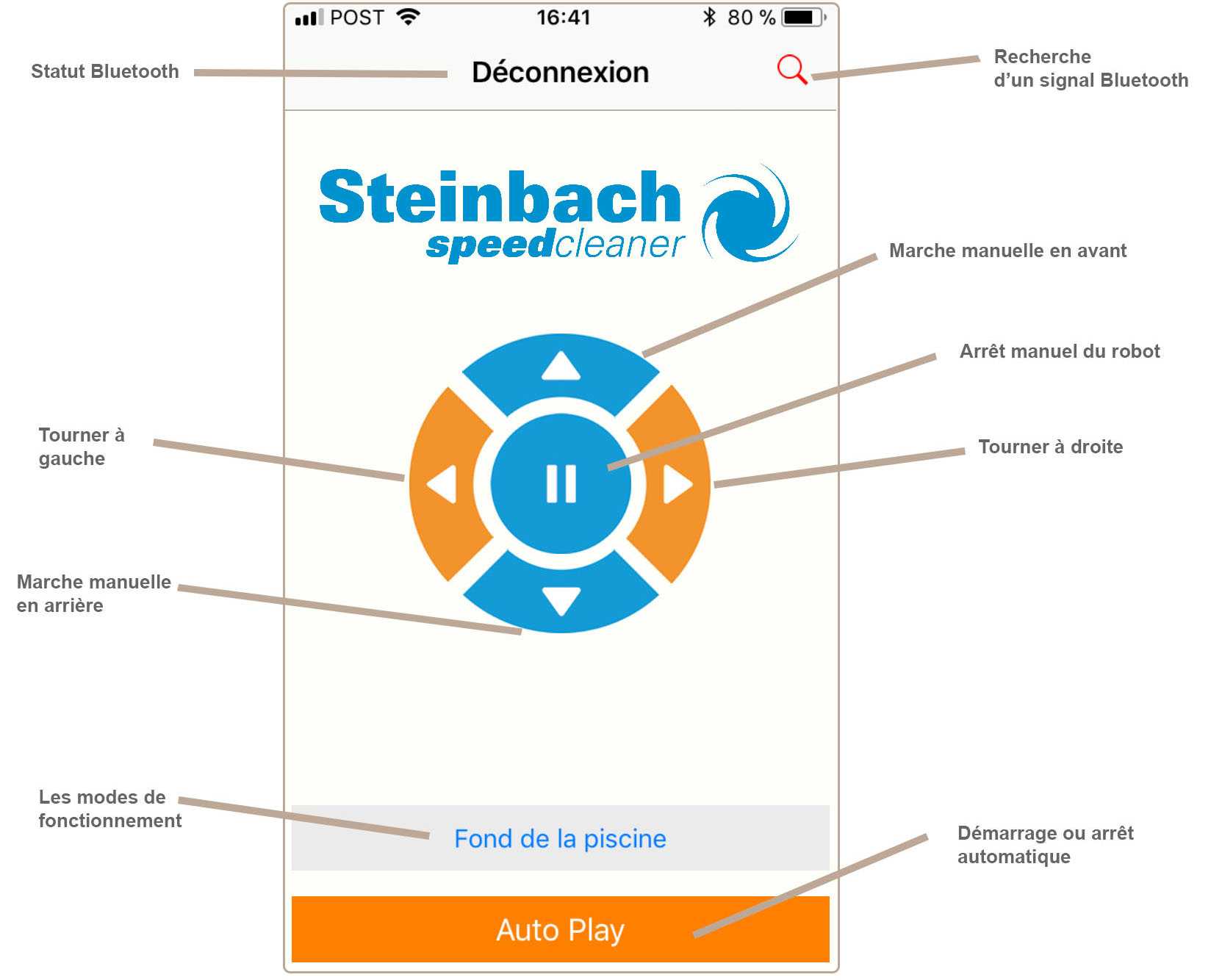 Efficiency:
The Speedcleaner APPcontrol is a powerful robot ideal for automatic pool cleaning due to its advanced, computer-controlled program, it can clean the bottom, the walls and water line.
The Speedcleaner APPcontrol robot plays the role of a second filtration due to its suction engine. Thus, it eliminates the finest particles that cannot be captured by usual filtration.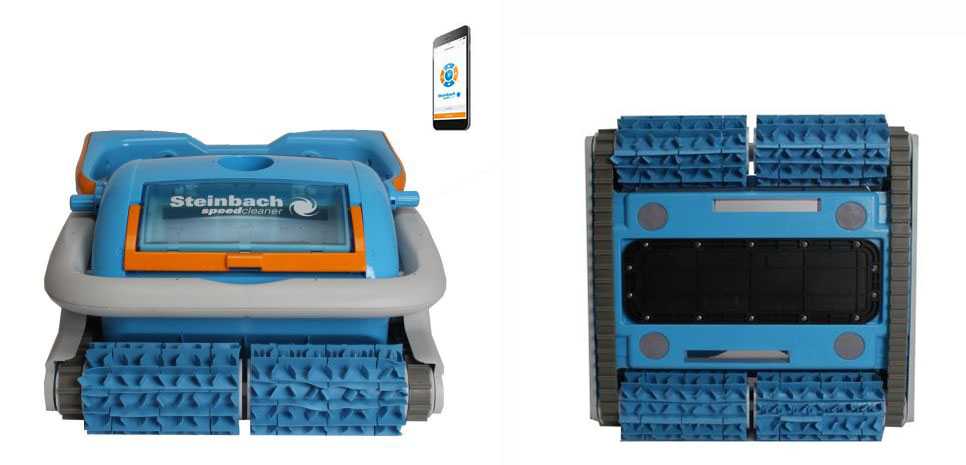 Simple to use

:
Basket access from the top: The filtration system is accessible from the top. (see diagram 2)
2 filtration panels: The basket can be cleaned very easy. The filter panels that make up the basket can be removed and rinsed with water.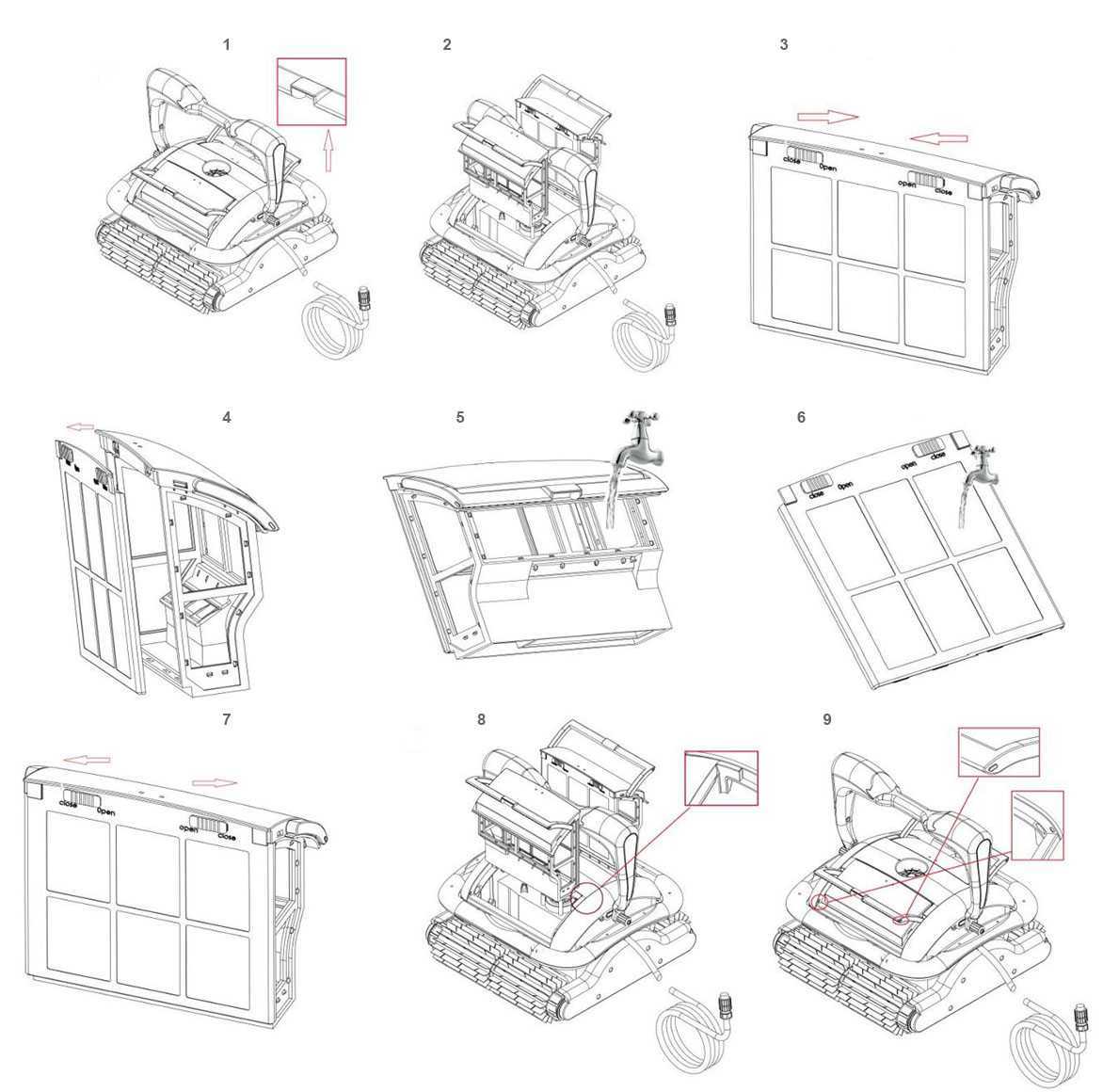 Filtration efficiency: Fine particles such as larger debris are collected in filter basket (180 microns).
What the types of pools are suitable?
Dimensions: All pools up to 12 x 6m.
Shapes: All shapes (oval, rectangular, round etc.)
Bottoms: All bottoms (flat, gentle slope, compound slope, diamond point etc .)
Coatings: All coatings (liner, tile, concrete, paint etc.)
Treatments: All treatments are suitable (salt, oxygen, chlorine etc.) but the salt content must not exceed 0.5%.
⚠, Speedcleaner APPcontrol robot does not fit overflow pools!
Specifications:
Pool dimensions max: 12 x 6m.
Filtration efficiency: 180 microns.
Cleaning: bottom, wall and water line.
Operational modes: 4 cleaning cycles and 3 cleaning times.
Connection mode: 4 cleaning cycles.
Power supply: autonomous, 220V connection upstream of a digital control box.
Moving: automatic and intelligent due to its advanced program controlled by computer.
Filtration system: filter basket with access from the top.
Cable length: 18m.
Access to filter: Top Access (from above)
Suction power: 20m³ / h.
Engine power: 24V DC.
Cleaning speed: 12m/min.
The maximum surface to clean inside the pool: 270m².
Operation of the robot in a water of: 10 to 32 °C.
Weight without cable: 12,5kg.
Reviews
All the reviews on this page are ordered by date.
Viewed products
Discover the new Speedcleaner...