Nous parlons français
We speak english
Wir sprechen Deutsch
Мы говорим по-русски
Piscimar Spot Remover
PISREMOVER

Piscimar offers a range of highly concentrated products to allow all owners of above-ground or in-ground pools to solve the water problems very quickly during the season. Spot Remover eliminates stains embedded in walls.
Warning: Last items in stock!
Availability date:
Piscimar Spot Remover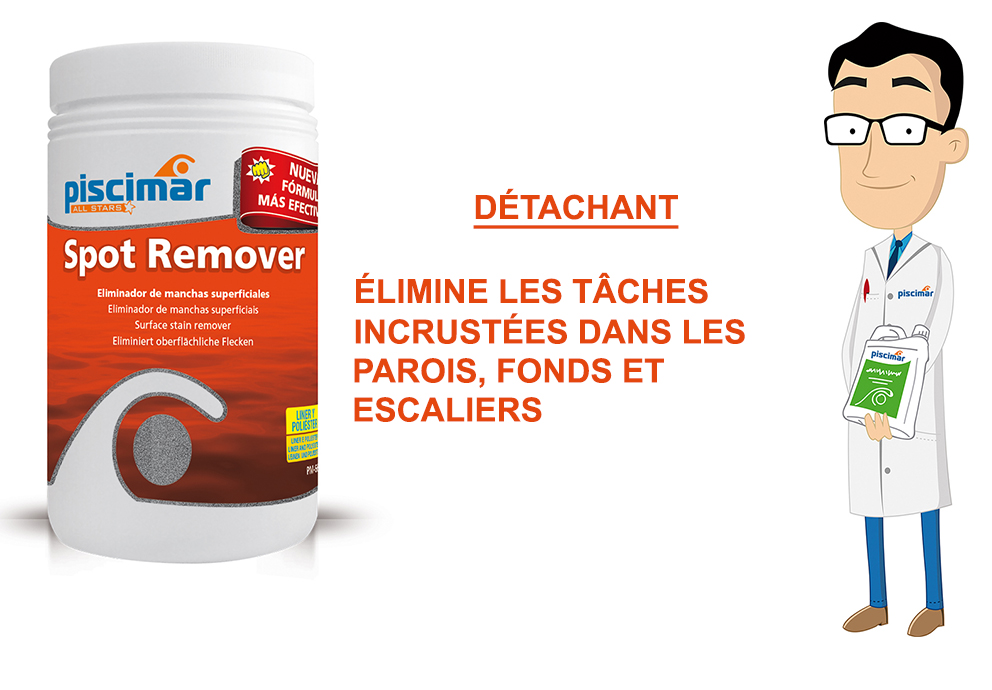 Piscimar's Spot Remover treatment product is a metal sequestrant that removes stubborn stains from the walls, pool's floor and pool's stairs.

It is compatible with all types of coating.
The advantages of the Spot Remover:
Eliminates tasks.
Compatible with concrete, liners and polyester coatings.
Very effective for eliminating yellow-brown stains on liner coatings.
Does not damage seal parts and stainless steel ladders or other stainless steel parts.
An expert's advice:
In order to optimize the effectiveness of the treatment it is advisable to have pH of 7.0 and lower the level of chlorine.
Spread Spot Remover on the surface of the water and turn on the filtration for tasks spread throughout the pool.
Pour Spot Remover on the affected area, let the product stand for 10 minutes filtration stopped, then put the filtration back into operation, this should be done for tasks located in a certain area of the pool.

3 to 4 hours after the treatment add the Ion Magnetic metal sequestering agent, it is essential to use both products Spot Remover and Ion Magnetic so that the tasks never appear again.

It is possible that the pH could be down within 24 hours after this treatment, check it and adjust it if necessary.
Usage:
Regulate the pH to 7.0 before treatment.
Reduce the chlorine level to 0.5 ppm.
In the case of tasks spread throughout the pool, use 20 grams of Spot Remover.


In the case of tasks located at certain area, use 12 grams of Spot Remover.

3 to 4 hours after the treatment, add 15ml/m3 of Ion Magnetic product in the water.
Check the pH and go up to 7.2 pH level.
Use gloves before handling any product.
Capacity:

0,7kg



Reviews
All the reviews on this page are ordered by date.
Viewed products
Piscimar offers a range of highly...